2019-09-30
dasso at Architect @ Work Paris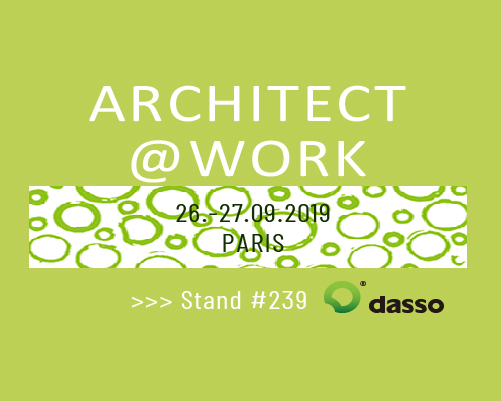 Dasso will participate in Architect @ Work Paris on 26th & 27th September 2019. On the show dasso have prepared the new innovative bamboo decking with super installation system for you. Looking forward to seeing you at Stand 239!
Architect @ Work Paris is an exhibition for Architecture & Interior Design at the Paris Event Center in Paris. Pls make your register and claim your free ticket from:
https://registration.n200.com/survey/2438bapl1vyvh
(Invitation code: P120259)
About Dasso:
Dasso, founded in 1993, is one of the global leaders and innovators in bamboo industry. With over 26 years' history in bamboo products production, now we have 8 manufacture facilities and over 1000 employees, in addition to owning over 2,700 acres of productive, sustainable bamboo forest in China.
After 26 years' development in the Bamboo Industry, Dasso has always pusued the most advanced crafts, technology (patent owner) and automatic manufacturing equipments; we aimed to unite all the most talented people to develop the most perfect management system for production and quality control, which enable Dasso to provide the bamboo products with superior quality and become a powerful integrated solution provider for bamboo products.
Dasso offers dassoFLOORING, dassoELEMENTS, dassoXTR, dassoCTECH as regular product range; We can provide integrated solutions and customized bamboo products for your specific projects as well. For more information pls visit:http://dassogroup.cn/Products/HomeIndex/555830396229387